I got the internet for the first time in September 2007, i had just had my PS3 for a few months and thought I'd join a forum, i joined a well known site called Afterdawn, but it wasn't quite what i needed in regards to PS3 Hacking.
I found out about a PS3 Hacking group called Team Ice, It was suggested to me to join PS3News, but when i went there the site looked hideous(still does), so i went to PS3HaX, i didn't join straight away, waiting a few weeks, reading threads etc, i ended up joining at the end of January 2008 and i joined the IRC server too, by March i became a moderator.
By 2009 i was basically looking after the site on my own, all the lazy ass moderators didn't bother doing anything, so i talked my best friend NeoSabin into becoming a moderator and he did, then after a while i became a news writer.
It was slow, very slow, until PS3 Jailbreak came out, that's when the real fun and excitement began, i soon gained a little fame, some hate and some love, the hate really kicked off when True Blue came out and i spoke out against it, there was plenty of drama that ensued.
That brings us until today, when i have to say goodbye to PS3HaX, goodbye to a site and member who i care about, goodbye to the thousands of articles i created, goodbye to the 17,000 posts i have made, goodbye to the staff that are decent, goodbye to the fun and drama, goodbye to posting news on PS3HaX
I must do this as i can no longer stand by administration on a website, that does not care about it's staff, administration who shows zero gratitude or thanks, administration that gives zero recognition, administration that doesn't properly look after their own website.
I have my own websites that i need to look after, i have the console history sites that i need to work on, It's time i stopped looking after someone elses, this decision didn't come easy and i have been thinking about it for a few months, i wont be leaving the PS Scene nor the IRC channel, just PS3HaX.
So goodbye to all the staff, all the previous staff, all the members past and present and thank you all for making my life on the internet enjoyable 🙂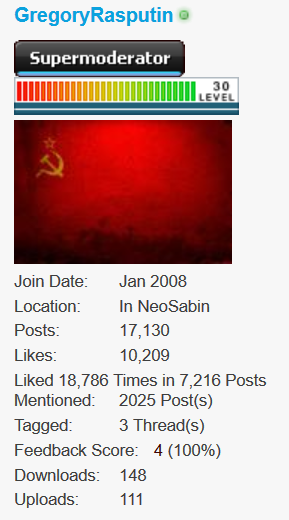 If you want to keep up to date with anything i do in the future, you can always follow me on Twitter:
https://twitter.com/GregoryRasputin
I write on my own websites WiiUHaX and RaspberryPiHaX, so you can view them and follow their Twitter accounts and then there is this blog, my personal one, where i post rants, photos and other personal thoughts.
You can also view this thread on PS3HaX, which is my final thread/post:
http://www.ps3hax.net/showthread.php?t=75045